Getting Common Core Right: 
A Blueprint for Success
Learning First Alliance Outlines How to Successfully Implement Common Core Standards to Benefit Students and Families  
(January 12, 2015 – Washington, DC) – The Learning First Alliance (LFA), a partnership of leading education organizations representing more than 10 million parents, educators and policymakers, released a white paper today with key lessons from the field on Common Core implementation: Getting Common Core Right: What We've Learned.
"There is more to successful Common Core implementation than simply added time," said Cheryl Scott Williams, LFA's Executive Director."It takes leadership, courage and on the ground support to ensure effective implementation is happening in urban, suburban and rural communities throughout the country."
Getting Common Core Right: What We've Learned details examples from the field and promotes best practices from large states to small districts. In California, state leaders have used a multi-stage process to phase-in the standards and connect them to teacher evaluations. In Toledo, Ohio, significant efforts have been made to involve practitioners in the process to understand the professional development supports necessary for success.
"Common Core standards are essential to helping all our kids achieve at a high-level regardless of where they live," said Williams. "Over the past year, we have reached out to successful practitioners and stakeholders, asking them to share their experiences and wisdom through the Get It Right Campaign so others can learn from these experiences."
Lessons learned from those in the field provide an important blueprint on how to take advantage of extra implementation time and make the best use of instructional materials, high-quality professional development and stakeholder engagement to the benefit of children, families, educators and the community at-large.
To learn more about the LFA, visit www.learningfirst.org.
###
About The Learning First Alliance
The Learning First Alliance is a partnership of leading education associations with more than 10 million members dedicated to improving student learning in America's public schools. Alliance members include: the American Association of Colleges for Teacher Education, AASA: The School Superintendents Association, American Federation of Teachers, American School Counselor Association, International Society for Technology in Education, Learning Forward (formerly National Staff Development Council), National Association of Elementary School Principals, National Association of Secondary School Principals, National Education Association, National PTA, National School Boards Association, National School Public Relations Association, Parents for Public Schools and Phi Delta Kappa International. The Alliance maintains www.learningfirst.org, a website that features what's working in public schools and districts across the country.
*************************************
ACTE Executive Director Applauds President Obama's Efforts to Increase Postsecondary CTE Access
ALEXANDRIA, VA—The Association for Career and Technical Education (ACTE) today expressed its appreciation for President Obama's continued focus on increasing access to postsecondary career and technical education (CTE) programs.
The "America's College Promise" proposal, announced by the president on January 8, is intended to provide federal and state funding to cover two years of community college tuition for students studying at least half-time and maintaining a C+ average or higher. The program will emphasize high-quality occupational training programs and programs that help students to transfer to further education.
"It is fantastic to see President Obama prioritizing access to postsecondary CTE through this proposal," said ACTE Executive Director LeAnn Wilson. "Community colleges play a crucial role in preparing students to succeed in growing career sectors, and increasing affordability for these programs will go a long way in providing equitable access to postsecondary education for all Americans."
In conjunction with America's College Promise, the president announced the creation of the American Technical Training Fund, which the White House stated will "expand innovating, high-quality technical training programs across the country." The program would fund 100 centers to focus on several core components of high-quality CTE, including employer engagement, work-based learning opportunities and flexible scheduling, and would later be used to bring these efforts to scale.
"I am also encouraged by the president's recognition of the great need for additional resources to support CTE programs as they strive to keep America's workforce globally competitive," Wilson continued. "I look forward to learning more about the American Technical Training Fund as the policy is further detailed in the days to come. While this initiative will provide critical resources to build capacity, incentivize innovation and pilot new approaches in some areas, we must prioritize a robust federal investment into the entire CTE system through proven approaches, particularly the Carl D. Perkins Career and Technical Education Act. The Perkins Act ensures that all students have access to a strong system of high-quality CTE programs with the characteristics highlighted in these new proposals."
CTE programs provide rigorous academic and technical training to 12 million postsecondary students nationwide, as well as 94 percent of American high school students. ACTE advocates for policies and programs that connect students with the learning opportunities needed for career success.
About ACTE
The Association for Career and Technical Education (ACTE) is the nation's largest not-for-profit association committed to the advancement of education that prepares youth and adults for successful careers. ACTE represents the community of CTE professionals, including educators, administrators, researchers, guidance counselors and others at all levels of education. ACTE is committed to excellence in providing advocacy, public awareness and access to resources, professional development and leadership opportunities.
###
Significant Upgrades to MimioStudio Software and MimioMobile App Advance Collaborative Teaching and Learning
New enhancements include functionality to enable mobile participation and collaboration for the entire classroom across multiple Apple and Android devices
Mimio introduced two updates to MimioStudio™ and MimioMobile™ teaching technologies this week to provide even more effective solutions to interactive teaching aligned to the Common Core State Standards. The new offerings, the MimioStudio™ 11.3 classroom software and the MimioMobile™ 3 mobile application, are available immediately. With this new release, MimioStudio offers full compatibility and seamless integration with the MimioMobile™ 3 mobile application – the only app that enables educators to deliver collaborative lessons across any Apple or Android mobile device for up to 50 students at a time. All current customers have the opportunity to upgrade to these versions for free from app stores and Mimio's website.
"At Mimio, we work every day to advance our interactive teaching tools for one reason alone: to help teachers better engage students in the process of learning," said Mimio Chief Technology Officer Dan Winkler. "We are proud to offer new functionality that further supports teachers through more effective collaboration."
Updates of MimioStudio and MimioMobile
MimioStudio now integrates all MimioClassroom™ products, supports Common Core State Standards guidelines through ongoing assessment and collaborative learning and powers any type of interactive displays. The latest version of the software augments the Collaborate feature. Each student now can use the new MimioPad™ wireless pen tablets and mobile devices equipped with the MimioMobile™ application to control his or her own MimioStudio™ Notebook page, building on the interactive activities and lessons already created by the teacher.
With the expanded Collaborate feature within the MimioStudio 11.3 software, teachers now have the option of having a single student, group or the entire class work on the same activity. They can also pause student sessions, or hide a session from view instantly, all on the front-of-the-class display. Teachers now have a far greater ability to highlight, discuss, and share student work with the entire class.
With a single MimioStudio classroom license and the MimioMobile 3 app, any student with an Android or Apple mobile device can participate in collaborative learning and ongoing, real-time formative assessment, including open response questions. Schools and students benefit from more collaborative group instruction, which encourages participation and idea sharing, and supports the requirement of the Common Core State Standards for a more student-centric learning environment.
"These new Mimio offerings improve the classroom experience by extending technology from teachers to their students to foster interaction and collaboration," said Mimio President Manny Perez.  "Mimio takes great pride in the fact that our ongoing commitment to advance interactive learning has created some of the most innovative products on the market, bar none."
About Mimio
Mimio is a global leader in interactive teaching technologies that offer a better way to learn and an empowering way to teach. A portfolio company of Skyview Capital, Mimio creates award-winning, innovative, and affordable hardward and solfware that increase teacher effectiveness and student engagement in K-12 classrooms. For more information, visitwww.mimio.com. Foll Mimio on Twitter @MimioTechnology and "Like" us on our Facebook page atwww.facebook.com/Mimio Technology
*********************************************************
Checking for Understanding, 2nd Edition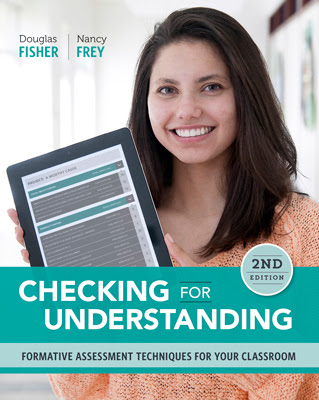 Since 2007, Checking for Understanding: Formative Assessment Techniques for Your Classroom has helped thousands of teachers increase students' understanding with the help of creative formative assessments that determine what students know, what they need to know, and what type of instructional interventions are effective.
Now, in this revised and updated edition, Douglas Fisher andNancy Frey provide new tips and tools to support your implementation of formative assessment techniques that work in any subject area and grade level, for individual students or across multiple classrooms.
Extensive classroom examples in this book show you how to use formative assessments to
correct misconceptions.
improve learning.
model good study
This new edition of Checking for Understanding has been updated to reflect the latest thinking in formative assessment and to show how the concepts apply in the context of Fisher and Frey's work on gradual release of responsibility, guided instruction, formative assessment systems, data analysis, and quality instruction.
---
About the Authors

DOUGLAS FISHER, PhD, is professor of educational leadership at San Diego State University and a teacher leader at Health Sciences High and Middle College. He teaches courses in instructional improvement and creating effective schools.

NANCY FREY, PhD, is a professor of educational leadership at San Diego State University. Frey also teaches classes at Health Sciences High and Middle College in San Diego. She is a credentialed special educator, reading specialist, and administrator in California.