Pearson Unveils Competency-Based Education Playbook and Resources to Help Colleges and Universities Develop Successful Programs
Strategies for Launching a CBE Program to be Featured in Workshop at Cite 2016, Feb. 9-11
NEW YORK – January 20, 2016 – The higher education research firm,Eduventures, estimates that by 2020, competency-based education (CBE) has the potential to grow to as many as 750 programs with more than 500,000 students at U.S. colleges and universities. To support this growing trend, Pearson today launched theCBE Playbook—a framework to help higher education leaders think about, organize, and manage the many phases and decisions involved in developing a successful CBE program.
CBE is an approach that places students at the center of the learning process. In a CBE environment, students master skills at their own pace, on their own time and at the location of their choosing, leading to stronger engagement and better outcomes. CBE personalizes learning by using technology familiar to students and taking advantage of learning opportunities outside the normal confines of a building or school. Successful CBE programs provide greater flexibility for adult learners, reduce costs for institutions and provide students with validated skills that are highly valued by employers.
The core of the playbook is seven workstreams that organize the areas of functional decision-making and effort required to launch a CBE program. Each workstream represents a set of functions, key decisions, and strategy areas that form the building blocks of a comprehensive CBE program initiative, and each poses an overarching question. The workstreams include strategy and integration; organization; program development; student success; technology; management; and enrollment and marketing.
"To develop this playbook, our researchers reviewed and analyzed numerous successful CBE programs and initiatives underway, as well as the key policies and regulations, market dynamics, and student and employer preferences that are shaping the landscape," said Gerald M. DiGiusto, director, Higher Education Consulting Services, Pearson. "The CBE Playbook provides a high-level overview of the components and key decisions associated with launching a CBE program that achieves the strategic goals of colleges and universities and drives the success of their students."
The CBE Playbook will be featured in a workshop, "Let's Launch a CBE Program: An A-Z Workshop" at the 2016 Cite Online Learning Conference, live in Amelia Island, Florida and virtually. The workshop, scheduled for Feb. 9 from Noon-3 p.m., will be conducted by Pearson's Paul Bowers, manager, Higher Education Consulting Services, and features pioneering CBE leaders such as Southern New Hampshire University's College for America's Cathrael (Kate) Kazin, J.D., Ph.D., chief academic officer.
CBE Resources:
In addition to the Complete Playbook, the CBE suite of resources include:the Abbreviated CBE Playbook,Developing a CBE Program: Four Key Decisions Whitepaper, andDefining Competencies and Outlining Assessment Strategies for CBE.
Recent CBE Webinars:
For more information on how Pearson works with institutions to design, launch, and support successful CBE programs, visit pearsoned.com/cbe.
About Pearson
Pearson is the world's leading learning company, with 40,000 employees in more than 80 countries working to help people of all ages to make measurable progress in their lives through learning. For more information about Pearson, visit http://www.pearsoned.com.
**********************************************************************************************
Measured Progress Awarded Multi-State Alternate Assessment Contract
Based on Alternate Achievement Standards for students with significant cognitive disabilities
DOVER, N.H.—January 20, 2016—As the fiscal agent on behalf of the Multi-State Alternate Assessment (MSAA) participating states, the Arizona Department of Education has awarded Measured Progress the contract for the new MSAA. Transitioning from the work of the National Center and State Collaborative (NCSC) grant project to create and implement an assessment for students with the most significant cognitive disabilities, Measured Progress will work with participating states to continue developing the assessment, and to implement and maintain the program. The first administration of the MSAA will take place in Spring 2016 in participating states: Arizona, Arkansas, Maine, Maryland, Montana, Rhode Island, South Dakota, and Tennessee; and in the Commonwealth of the Northern Mariana Islands and Guam. The term of the contract is three years, with potential one-year extensions for a total of seven years.
This MSAA contract builds on the successful development and implementation of the NCSC program, which Measured Progress managed in partnership with Breakthrough Technologies, the provider of the TAO open-source test delivery platform, and with NCSC management and partner states. NCSC was one of the two special education consortia funded by Race to the Top. NCSC and its successor, MSAA, represent a groundbreaking accomplishment in the field of special education assessment: The program continues to be developed and overseen by participating states and their special educators—not driven by a vendor.
On behalf of the consortium, Audra Ahumada, Director of Alternate Assessment for the Arizona Department of Education said, "MSAA states are excited and looking forward to working with Measured Progress and its partners on the continuation of developing, enhancing, and administering an alternate assessment for students with significant cognitive disabilities. We are all focused on collaborating to ensure successful test administrations in the future."
Given the small numbers of special education students with significant cognitive disabilities in many states, the cost for an individual state to design and implement an innovative alternate assessment is challenging. By pooling resources, the MSAA can provide a variety of item types and accessibility for eligible students at a practical cost and with a feasible administration system. Even more importantly, this collaboration supports the expectation that all students can learn and can demonstrate what they know and can do. And by assessing students in multiple states, the program can amass sufficient data to provide valid and reliable measures of student achievement.
While the overall alternate assessment program will be the same for all the participants, individual states may choose additional options to enhance their programs. For example, a state may choose face-to-face training for test administrators, a technology review to determine their schools' readiness for online testing, or participation by Measured Progress measurement experts at state Technical Advisory Committee meetings.
States' adoption over recent years of rigorous new academic content standards, including the Common Core State Standards, has raised expectations for students across the board. According to Measured Progress CEO and President Martin Borg, "In any state we've worked with, significant numbers of teachers and students have risen to higher expectations as more rigorous standards have been introduced. The NCSC and MSAA programs demonstrate our collective commitment to all students by giving students with cognitive disabilities new opportunities to demonstrate their knowledge, skills, and abilities. We are especially proud of our work with NCSC and look forward to supporting states, students, and educators with the new MSAA program."
*******************************************************************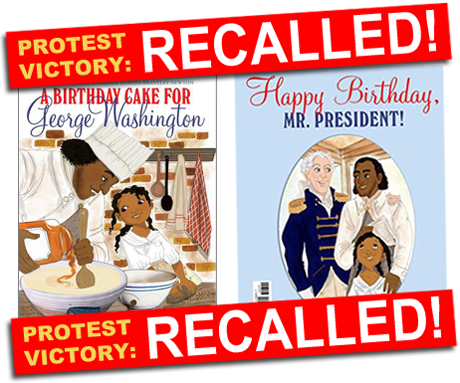 Under Pressure, Scholastic Recalls
Racist Children's Book
A firestorm erupted when Scholastic released a children's book early this month,
A Birthday Cake for George Washington, by Ramin Ganeshram and illustrated by Vanessa Brantley-Newton, featuring smiling slaves baking a cake for George Washington. The back cover portrayed George Washington and his enslaved chef, Hercules, arm-in-arm, like best buddies. The image convinced many that this was an Onion parody and not an actual children's book published in 2016. The images of seemingly happy enslaved African-Americans working in the kitchen were underscored with Hercules's closing words when he serves the cake: "An honor and a privilege, sir… Happy birthday, Mr. President." The story never offers children a hint as to why it was not a "privilege" nor a smiling affair to be enslaved. Nor do readers learn that the conditions were so dire that Hercules escaped on Washington's birthday the following year, despite having to leave his children behind.
The School Library Journal called the book "highly problematic" and Kirkus Reviews labeled it "an incomplete, even dishonest treatment of slavery." But neither of these critical reviews generated a public response from Scholastic.
It was not until a grassroots campaign by librarians, social justice organizations, #BlackLivesMatter activists, journalists, and others that Scholastic took the extraordinary step of recalling the book.
Continue reading at Common Dreams, AlterNet, or Huffington Post.
************************************************************************************
Department of Education Answers HRC's Call for Greater Transparency On Anti-LGBT Religious Exemption Requests
To help increase transparency and accountability, Department of Education will publish list of educational institutions who have sought and/or received an exemption from federal law seeking the right to discriminate against LGBT students
WASHINGTON – Today, the Human Rights Campaign (HRC), the nation's largest lesbian, gay, bisexual, and transgender (LGBT) civil rights organization praised a decision from the U.S. Department of Education to publish a searchable database in the coming months of educational institutions who have sought and/or received an exemption from federal civil rights law in order to discriminate against LGBT students. To help increase transparency and accountability, HRC called on the Department of Education in December to take action in light of this growing and disturbing trend by some religious colleges and universities.
"We have been alarmed by the growing trend of schools quietly seeking the right to discriminate against LGBT students, and not disclosing that information publicly," said HRC President Chad Griffin. "We are encouraged that the Department of Education is answering our call for greater transparency to help ensure no student unknowingly enrolls in a school that intends to discriminate against them. We believe that religious liberty is a bedrock principle of our nation, however, faith should never be used as a guise for discrimination."
HRC first called on the Department of Education to take action in a comprehensive report released in December called Hidden Discrimination: Title IX Religious Exemptions Putting LGBT Students at Risk. In the report, HRC spotlighted 56 colleges and universities based in 26 states across every region of the country – which collectively have nearly 120,000 students – that have requested religious exemptions under Title IX since 2013. These institutions have utilized a little-known provision in the law that allows educational institutions controlled by a religious organization to request an exemption from full compliance with the law if "application of the law would conflict with specific tenets of the religion." Specifically, HRC called on:
The Department of Education to require schools to publish comprehensive information about the scope of the exemption they received and the way in which Title IX still protects students;
The Department of Education to regularly report which educational institutions have been granted Title IX religious exemptions, the scope of those exemptions, and ensure the information is provided on the individual schools' landing page as part of College Navigator; and
Congress to amend the Department of Education's Office of Civil Rights (OCR) governing statute to require OCR to annually report the number of Title IX exemptions that were requested, granted, and denied. LGBT students face discrimination and harassment at an alarming rate.
While the Department of Education has little discretion to deny these requests for exemptions, religiously controlled educational institutions should not be exempt from full transparency.
According to a 2010 study, lesbian, gay, and bisexual college students are nearly twice as likely to experience harassment when compared with their non-LGB peers, and are seven times more likely to indicate the harassment was based on their sexual orientation. In the 2011 National Transgender Discrimination Survey, one-fifth of transgender students reported that they were denied gender-appropriate housing, and five percent reported outright denial of campus housing. LGBT college students also suffer from higher rates of sexual assault and misconduct on America's campuses; transgender and gender nonconforming students report one of the highest rates of sexual assault and misconduct.
The Human Rights Campaign is America's largest civil rights organization working to achieve lesbian, gay, bisexual and transgender equality. HRC envisions a world where LGBT people are embraced as full members of society at home, at work and in every community.
********************************************************************************
STEELCASE EDUCATION ANNOUNCES SECOND ANNUAL GRANT TO INCREASE STUDENT FOCUS AND COLLABORATION
Steelcase Education to supply active learning classrooms to schools in the United States,
Canada and Mexico
Grand Rapids, Mich., December 1, 2015—Today, Steelcase Education has launched the second annual Active Learning Center (ALC) Grant, a program to provide active learning spaces to schools across United States, Canada and Mexico. Applications are being accepted online through February 12, 2016.
The ALC grant program leverages classroom space to implement new teaching practices, centering on student focus and collaboration. Up to 15 grant recipients will have the opportunity to install one of four learning environments featuring Steelcase Education's state-of-the-art furniture and technology.
"Research has shown that active learning environments positively impact student engagement," said Sean Corcorran, General Manager of Steelcase Education. "Our 2015 grant recipients have already seen improvements in student focus and we are eager to partner with more educators who are committed to providing inspiring environments in order to enhance student learning."
New this year, technical and trade schools are eligible to apply for the ALC grant, in addition to grades six through twelve, colleges and universities. Schools are also permitted to submit applications for library and media center spaces this year. Steelcase Education will award up to 15 schools with a new classroom, valued at $62,000.
Applicants to the program are asked to describe the desired pedagogy they plan to employ and how the new active learning classroom will positively impact teaching and learning. Grantees will be selected based on their commitment to active learning strategies and how they plan to measure student success and share their learnings with the broader education community.
As part of the ALC program, grantees receive training from Steelcase leaders on best practices for the new technology and furniture. Grantees will also participate in a community of practice with fellow grant recipients to share insights and best practices.
Last year's program garnered over 500 applicants and twelve recipients from North America. All classrooms have been installed and are being used by teachers and students. Grantees included P.K. Yonge Developmental Research School at the University of Florida, Ohio State University, the University of Arizona and Forest Hills Northern High School in Grand Rapids, MI. Research from the inaugural group of ALC grant recipients is underway and will be released in 2016. More information on the 2015 Active Learning Classroom Grant can be found here.
"We are honored to be part of the inaugural class of ALC grant recipients," said Dr. Lynda Hayes, director and university school professor at P.K. Yonge Developmental Research School at the University of Florida. "Our new classroom allows us to support students in a variety of learning and teaching styles that encourage flexibility and movement and positively impact the dynamic between teachers and students."
Winners of this year's grant will be announced in March 2016.
###
Steelcase Education
As lifelong learners, Steelcase Education aims to make a difference in education. For students, educators and designers, the organization creates the most effective, rewarding and inspiring learning spaces. As a dedicated group within Steelcase exclusively focused on education, it brings evidence-based design, technology and innovative solutions to education environments, wherever learning happens.